Cognizin® Citicoline One of 11 Researched Nootropics in New Mind Lab Pro™
Dietary Supplement Designed to Tap the Brain's Full Potential*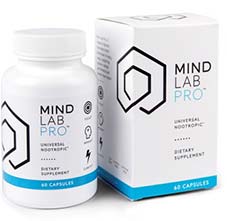 Many brain health supplements use botanical or synthetic nootropics – cognitive enhancers – to promote better memory and focus.* The makers of Mind Lab Pro™ think that's narrow minded.
Mind Lab Pro™ is a matrix of 11 evidence-backed, multi-tasking nootropics that combine to target six pathways of mental performance: Brain energy, brain chemicals, brain circulation, brain regeneration, brain protection, and brain waves. Mind Lab Pro™ is designed as a "Universal Nootropic" with diverse support for all types of mental performance and long-term brain health.*
A branded form of citicoline, Cognizin® is an essential substance for brain health shown in human research to support attention, focus and concentration.* Long term, it may help maintain healthy brain function against age-related structural changes and mental decline. A recent study revealed that Cognizin® Citicoline boosted brain cell membrane formation by 26% and brain energy by 13.6%.1
"We are pleased to feature Cognizin® Citicoline as Mind Lab Pro's lead nootropic," comments Opti-Nutra Director Dave Wright. "In addition to its superior quality and strong research, Cognizin® supplies versatile, full-spectrum brain support that is perfect for Mind Lab Pro's '100% Brainpower' strategy."
For more information about Mind Lab Pro™, visit MindLabPro.com.
About Opti-Nutra Ltd
Opti-Nutra Ltd.'s advanced nutritional supplements are powered by today's finest all-natural ingredients, including many premium-quality branded forms like Cognizin® Citicoline. Mind Lab Pro is Opti-Nutra's flagship nootropic supplement. For more information, visit OptiNutra.com.
1 Silveri, M. M., Dikan, J., Ross, A. J., Jensen, J. E., Kamiya, T., Kawada, Y., Renshaw, P. F. and Yurgelun-Todd, D. A. (2008), Citicoline enhances frontal lobe bioenergetics as measured by phosphorus magnetic resonance spectroscopy. NMR Biomed., 21: 1066–1075. doi:10.1002/nbm.1281
About Cognizin® Citicoline
Cognizin® Citicoline, manufactured by Kyowa Hakko Bio Co., Ltd., is a clinically studied and patented form of Citicoline, a natural substance found in every cell of the body and especially vital to brain health.* Citicoline is a potent brain-health nutrient. A proprietary form of citicoline, Cognizin® has been clinically studied to support mental energy, focus, attention and recall. Cognizin is manufactured through a patented fermentation process to yield high quality and high purity. Cognizin is also highly stable, GRAS, ultra-pure and allergen-free.
About Kyowa Hakko USA
Kyowa Hakko USA is the North & South American office for Kyowa Hakko Bio Co. Ltd., an international health ingredients manufacturer and world leader in the development, manufacturing and marketing of pharmaceuticals, nutraceuticals and food products. Kyowa is the maker of branded ingredients including Cognizin® Citicoline, Lumistor® L-Hydroxyproline, Pantesin® Pantethine, Setria® Glutathione, as well as Sustamine® L-Alanyl-L-Glutamine. For more information, visit Kyowa-USA.com.
Return to News »