'Know Your Potential' with Knosis – Cognizin® Citicoline Featured in New Nootropic + Energy Blend
New Gamer-Focused Supplement launches with Kyowa Hakko's brain health ingredient in science-backed, transparent formula.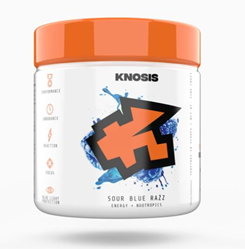 Dietary supplement brand Knosis enters the market with the launch of its powdered Energy + Nootropic mix, a science-backed formula designed by Knosis' founder Erik Bywater to optimally support eSports performance and energy.

"Gamers aren't chained to our screens; we are also competitors, athletes, creators, entrepreneurs and hard workers who strive to be the best at whatever we do," he explains, "I wanted to create a novel nootropic for these niches that functions like a 'pre-workout' for your brain, and that was proven effective, without the questionable ingredients. That's why Kyowa Hakko's Cognizin® Citicoline ingredient is so critical to the efficacy and uniqueness of our product."

Cognizin® Citicoline is a patented, branded form of citicoline that is made by leading international health ingredient manufacturer, Kyowa Hakko, through a fermentation process. Citicoline is a potent brain-health nutrient and nootropic that is especially vital to brain health and the formation of phospholipids. Cognizin® Citicoline has been clinically-studied to support mental energy, focus, and attention*.

"In addition to Cognizin®, we wanted to ensure we delivered on complementary ingredients to provide clean energy, cognitive support, and blue light eye protection support," remarks Erik, "As a result we created a synergistic mix, with information fully available and visible to consumers, without unclear proprietary blends, which often results in gamers left confused about what they're taking."

Knosis Nootropic + Energy is gluten-free, sugar-free, and also packed with B-vitamins and antioxidants like Pine Bark Extract. Its one-of-a-kind ingredient list includes Rhodiola Root extract to help increase energy and stamina*, L-Tyrosine, to help increase dopamine levels*, Bacopa Monnieri Extract, to help with mental processing*, and TeaCrine, to help boost energy, mood and focus, which lasts longer than caffeine*. Uniquely, Knosis also incorporates ingredients to support blue light eye protection, featuring Lutein and Zeaxanthin to help protect eyes from high-energy radiation*, along with Astaxanthin, to help reduce eye fatigue*.

"With our research-backed, allergen-free and self-affirmed GRAS Cognizin® Citicoline branded ingredient, we're excited to embark down a new avenue with Knosis," comments Elyse Lovett, MS, MBA, Senior Marketing Manager of Kyowa Hakko U.S.A. Inc, "In recent years, we've seen a huge uptick of interest in both eSports and nootropics, and are really pleased to see that Cognizin® is emerging as a trending ingredient in this space."

Coming in both Sour Blue Razz and Cherry Limeade flavors, just mix, shake, and drink to "know your potential" with Knosis Energy + Nootropics, available for purchase online at Knosis.gg.

Media interested in setting up an interview with a Kyowa Hakko representative please contact Sara White at sara@adinnyc.com or 914.621.1323. *These statements have not been evaluated by the Food and Drug Administration. This product is not intended to diagnose, treat, cure or prevent any disease.

About Cognizin® Citicoline
Cognizin® Citicoline, manufactured by Kyowa Hakko Bio Co., Ltd., is a clinically studied and branded form of Citicoline, a natural substance made endogenously in the body and especially vital to brain health.* Citicoline is a potent brain-health nutrient. A proprietary form of citicoline, Cognizin® has been clinically studied to support mental energy, focus, attention, and recall. Cognizin® is manufactured through a fermentation process to yield high quality and high purity. Cognizin® is also highly stable, GRAS, ultra-pure and allergen-free. For more information on Cognizin®, visit Cognizin.com.

About Kyowa Hakko USA
Kyowa Hakko USA is the North & South American office for Kyowa Hakko Bio Co. Ltd., an international health ingredients manufacturer and world leader in the development, manufacturing, and marketing of pharmaceuticals, nutraceuticals and food products. For more information visit Kyowa-USA.com.

Return to News »