Power Your Next Great Idea, Boost Mental Clarity with Smart Mode™ with Cognizin® Citicoline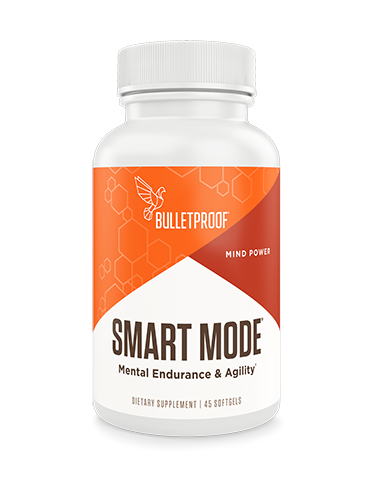 Eleven cognitive-enhancing ingredients help support focus, energy, and memory*
The human brain makes about 35,000 decisions every day, starting from the moment the alarm goes off in the morning. As the hours pass, the brain tires and it becomes harder to focus and think. That's where Smart Mode™ from Bulletproof 360 makes a difference.*
The daily supplement is powered by 11 ingredients specifically chosen for their cognitive-enhancing abilities. At the heart of Smart Mode™ is Cognizin® Citicoline, a patented form of citicoline. Citicoline is a naturally occurring ingredient produced by the brain. It is critical for healthy brain function and is proven to increase alertness, as well as boost energy.*
Clinical studies show Cognizin® provides vital nutrients that help the brain stimulate electronic impulses, maintain healthy neurons and protect them from free radicals. Smart Mode™ combines Cognizin® with ingredients such as fisetin (found in strawberries), theacrine (found in Chinese tea), and pantothenic acid (vitamin B5).*
"We took a holistic approach to brain health when creating Smart Mode™ by incorporating some of the most clinically studied and innovative brain-boosting ingredients, including Cognizin®," said Karen Huh, Bulletproof Vice President of Product Development.
For more information about Smart Mode™, visit https://www.bulletproof.com/smart-mode-45-count.
About Bulletproof 360, Inc.
Bulletproof is a cutting-edge food, beverage, and content company best known for the widely popular Bulletproof Coffee and starting the smart fat for fuel movement. The company provides science-based information, techniques, and products to help people take steps toward a sharper, stronger self through better performance, increased focus, and enhanced energy. Founded by biohacker and New York Times bestselling science author Dave Asprey, Bulletproof is on a mission to create products that radically improve lives. Bulletproof products are sold in Whole Foods and other leading retailers nationwide, Bulletproof Cafés, and online at Bulletproof.com and Amazon.com. For more information, visit https://www.bulletproof.com/. 
About Cognizin®
Cognizin® Citicoline, manufactured by Kyowa Hakko Bio Co., Ltd., is a clinically studied and patented form of Citicoline, a natural substance found in every cell of the body and especially vital to brain health.* Citicoline is a potent brain-health nutrient. A proprietary form of citicoline, Cognizin® has been clinically studied to support mental energy, focus, attention, and recall. Cognizin is manufactured through a patented fermentation process to yield high quality and high purity.  Cognizin is also highly stable, GRAS, ultra-pure and allergen-free. For more information on Cognizin, visit Cognizin.com. 
About Kyowa Hakko USA
Kyowa Hakko USA is the North & South American office for Kyowa Hakko Bio Co. Ltd., an international health ingredients manufacturer and world leader in the development, manufacturing, and marketing of pharmaceuticals, nutraceuticals and food products. Kyowa is the maker of branded ingredients including Cognizin® Citicoline, Lumistor® L-Hydroxyproline, Pantesin® Pantethine, Setria® Glutathione, as well as Sustamine® L-Alanyl-L-Glutamine. For more information visit Kyowa-USA.com.
Return to News »