Cognizin® Citicoline Launches "Tap Challenge" In the App Store
The Tap Challenge App is finally here for professional button mashers or anyone who wants to challenge themselves each day!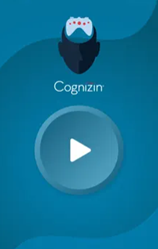 Kyowa Hakko, makers of Cognizin® Citicoline, a branded form of citicoline clinically studied to support mental energy, focus and attention*, announced today the launch of Tap Challenge, available to download in the App Store. Tap Challenge is an app that tests how quickly an individual can tap a button in 20 seconds. Great for training reflexes for more complex fighter games and games that need quick combinations, Tap Challenge truly gets your fingers moving.
It looks simple, but tapping with one finger, even for 20 seconds, is not that easy. Players can practice their tapping skills or face off against friends or the global leaderboard and see if they can reach a high score.
"We are thrilled about the release of the Tap Challenge app," said Karen Todd, MBA, RD, Vice President Global Brand Marketing, Kyowa Hakko USA, Inc. "When we first debuted the test version at SxSW Gaming Expo in 2019, the response was overwhelming. So, we decided to make it available to everyone interested in powering their game."
This all began following the results of a study that Kyowa Hakko initiated in 2015. Using a Finger Tap Test, the results supported improved attentional abilities, psychomotor speed and inhibition in healthy adolescent males when supplementing with Cognizin® Citicoline over a 30-day period (McGlade, et al., 2015). The double-blinded study was conducted by neuropsychologists using a variation of tests which simulated cognitive functions and keyboard actions like those exercised in PC video games.
An innovative form of citicoline, a potent brain-health nutrient, and nootropic, Cognizin® has been extensively clinically studied to support mental energy, focus, memory, and attention*. Many other cognitive health ingredients only enhance brain performance. Cognizin® provides more comprehensive brain health support over time, not only for gamers, but anyone interested in supporting their overall cognitive health*.
Cognizin® supports brain health in several ways. First, brain imaging technology has shown that Cognizin® helps increase brain energy*. Second, Cognizin® provides essential structural components for synthesizing brain cell membranes, which may help facilitate brain cell communication. And third, Cognizin® helps support the formation of several brain chemicals that regulate cognitive function. Because Cognizin® helps make more energy available to brain cells, they are better able to perform their daily tasks. Cells membranes are synthesized and maintained. Vital brain chemicals are produced. Electrical impulses are generated. These activities help improve the overall functioning of the brain.
Powered by Cognizin®, C4® Smart Energy is the first partner to be featured on the Tap Challenge app, which is available on iPhone devices today. The download is fast, and players can complete their first game in under a minute! Download here.
About Cognizin® Citicoline
Cognizin® Citicoline, manufactured by Kyowa Hakko Bio Co., Ltd., is a clinically studied and branded form of Citicoline, a natural substance made endogenously in the body and especially vital to brain health.* Citicoline is a potent brain-health nutrient. A proprietary form of citicoline, Cognizin® has been clinically studied to support mental energy, focus, attention, and memory. Cognizin® is manufactured through a fermentation process to yield high quality and high purity. Cognizin® is also highly stable, GRAS, pure and allergen-free. Cognizin® is available in over 200 products. For more information on Cognizin®, visit Cognizin.com.
About Kyowa Hakko USA
Kyowa Hakko USA is the North & South American office for Kyowa Hakko Bio Co. Ltd., an international health ingredients manufacturer and world leader in the development, manufacturing, and marketing of pharmaceuticals, nutraceuticals, and food products. For more information visit Kyowa-USA.com.
Media interested in setting up an interview with Karen Todd, please contact Giselle Chollett: giselle@adinnyc.com or 917.386.7116.
Return to News »