New INVIA™ Mental Performance Drink Mix Supplement Launches with Research Backed Cognizin® Citicoline
Mix a convenient INVIA™ stick pack with water for a flavorful, zero-calorie mental alertness anytime*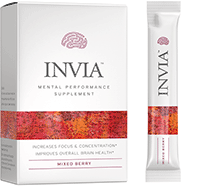 INVIA, a new mental performance drink mix supplement developed with Cognizin® citicoline – a branded form of the brain health nutrient, citicoline – is now available on www.INVIAlife.com in two refreshing and calorie-free flavors: mixed berry and tea lemonade. Relying on a simple and effective formula, INVIA has improved participants' performance on tests of visual learning, reaction time, and processing speed.* INVIA was developed by clinical neuropsychologist Dr. Robert Paul, Ph.D., ABPP-CN, in a quest to help improve his own concentration in today's increasingly busy and distracted world.
As a practicing clinical neuropsychologist, full professor and father, Dr. Paul found himself struggling to maintain optimal mental energy throughout long, busy and demanding days. "When I developed INVIA, I was looking for product that could elevate my performance as a professional, husband and father," recalled Dr. Paul. "INVIA's formula is based on clinical research – the industry's gold standard – because I wanted a product that I could use every day without compromising my health or integrity."
INVIA's carefully selected, high-quality ingredients are formulated at precise doses, setting its formula apart from competitors. Key ingredient Cognizin® citicoline has been shown to increase focus and attention in several published studies.* In addition to vitamins E, B6 and B12, INVIA also contains a combination of caffeine and ornithine (an amino acid) that, in a study, resulted in more willingness to work, improved mood, and better concentration, compared to caffeine alone.2*
"Today more than ever before, our brains are overloaded from the constant external stimuli that surrounds us and creates barriers to our natural ability to focus, not to mention stress and daily responsibilities," continued Dr. Paul. "That's why INVIA has helped me regain my mental clarity by helping me focus harder when I need to, giving me back more time for family, and more time to recharge."*
INVIA is available nationwide on INVIAlife.com in a three sizes.
About Dr. Robert Paul, Ph.D., ABPP-CN
Dr. Robert Paul, founder of INVIA, is a Board-Certified Clinical Neuropsychologist with specialty training in the area of adult brain function. He's written more than 240 professional research publications in scientific journals and frequently gives presentations and lectures on his findings. Dr. Paul's research has generated more than 10 million dollars in grant money for various universities. He's one of a small group to reach the highest academic rank of Full Professor before the age of 40. Dr. Paul has also served as a consultant to pharmaceutical and biotechnology companies. Dr. Paul has also served as a consultant to pharmaceutical and biotechnology companies in the development of new ways to improve brain function.
About INVIA
INVIA is a mental performance drink mix supplement developed by neuropsychologist and Professor Dr. Robert Paul, Ph.D., ABPP-CN against a set of core values that remains unchanged:
A better world, one mind at a time
Enhanced focus and performance for the very best version of you
Confidence in research-backed ingredients to help you reach your goals
Mix INVIA into still or sparking water for refreshing and effective mental performance. With zero calories and scientifically backed ingredients, including Cognizin® citicoline, to improve focus and attention, let INVIA help you be the best version of you. Visit www.INVIAlife.com.
About Cognizin
Cognizin® Citicoline, manufactured by Kyowa Hakko Bio Co., Ltd., is a clinically studied and patented form of Citicoline, a natural substance found in every cell of the body and especially vital to brain health.* Citicoline is a potent brain-health nutrient. A proprietary form of citicoline, Cognizin® has been clinically studied to support mental energy, focus, attention and recall. Cognizin is manufactured through a patented fermentation process to yield high quality and high purity.  Cognizin is also highly stable, GRAS, ultra-pure and allergen-free. For more information on Cognizin, visit Cognizin.com. 
About Kyowa Hakko USA
Kyowa Hakko USA is the North & South American office for Kyowa Hakko Bio Co. Ltd., an international health ingredients manufacturer and world leader in the development, manufacturing and marketing of pharmaceuticals, nutraceuticals and food products. Kyowa is the maker of branded ingredients including Cognizin® Citicoline, Lumistor® L-Hydroxyproline, Pantesin® Pantethine, Setria® Glutathione, as well as Sustamine® L-Alanyl-L-Glutamine. For more information visit Kyowa-USA.com.
Return to News »