Opting for Optimus – Cognizin® Citicoline Featured in New Drinkable Nootropic Supplement
Nustait integrates Cognizin® Citicoline into new product formulation to add support for focus, attention and cognitive health.*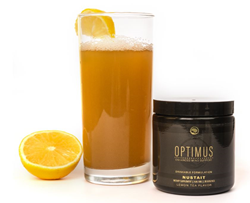 Nootropic supplement brand Nustait enters the market with its first product launch Optimus, a non-GMO, vegan, gluten-free drinkable nootropic supplement curated with research-backed ingredients for cognitive support, available in a lemon tea flavor.

Optimus, designed to be fast-acting and long-lasting, is a potent nootropic containing the equivalent of eleven capsules packed into one single serving, a move that amounted from co-founder Eduardo Casado's research on nootropics and his desire to combine the hefty eleven capsules he would take per day into one highly effective nootropic formula.

"Knowing that the nootropic field is growing fast, and that there's a lot of junk out there, people want and need a quality supplement, which is why we decided to create Optimus," comments Jesse Casado, co-founder of Nustait, "One serving contains the equivalent of 11 pills, which means less money while still receiving high quality, high potency, researched-backed ingredients."

Optimus' unique formulation consists of popular nootropic ingredients such as ashwagandha and l-theanine, along with Kyowa Hakko's patented form of citicoline, Cognizin® Citicoline.

Tested in human clinical trials and developed using an innovative fermentation process, Cognizin® Citicoline is a pure, allergen-free ingredient with GRAS status that's stable and effective*. Cognizin® Citicoline supports mental energy, focus and attention*, helping to keep the brain's energy centers firing.*

Kyowa Hakko Bio, health ingredient manufacturer of Cognizin® Citicoline and global leaders in the development, manufacturing and marketing of pharmaceuticals, nutraceuticals and food products, is "thrilled to have Cognizin® Citicoline featured as a key component of Nustait's groundbreaking new product," remarks Elyse Lovett, Senior Marketing Manager, Kyowa Hakko USA. "Kyowa Hakko is always striving for advancement and innovation within the dietary supplement industry, and Cognizin® Citicoline's addition into this drinkable nootropic product helps to further this mission," she adds.

Optimus is available for purchase online at Nustait.com. Media interested in setting up an interview with a representative from Kyowa Hakko USA please contact Sara White at sara@adinnyc.com or 212-693-2150.

*These statements have not been evaluated by the Food and Drug Administration. This product is not intended to diagnose, treat, cure or prevent any disease.

About Cognizin® Citicoline
Cognizin® Citicoline, manufactured by Kyowa Hakko Bio Co., Ltd., is a clinically studied and branded form of Citicoline, a natural substance made endogenously in the body and especially vital to brain health. * Citicoline is a potent brain-health nutrient. A proprietary form of citicoline, Cognizin® has been clinically studied to support mental energy, focus, attention, and recall. Cognizin® is manufactured through a fermentation process to yield high quality and high purity. Cognizin® is also highly stable, GRAS, ultra-pure and allergen-free. For more information on Cognizin®, visit Cognizin.com.

About Kyowa Hakko USA
Kyowa Hakko USA is the North & South American office for Kyowa Hakko Bio Co. Ltd., an international health ingredients manufacturer and world leader in the development, manufacturing, and marketing of pharmaceuticals, nutraceuticals and food products. For more information visit Kyowa-USA.com.
Return to News »